Get your CD of Doris Brendel's latest album 'ECLECTICA' for just £9.99
Order 'Eclectica' now because it'll give you drawers full of satisfaction, and, in the words of a reviewer, '' It's brilliant. One of those albums that contains track after track of quality music.''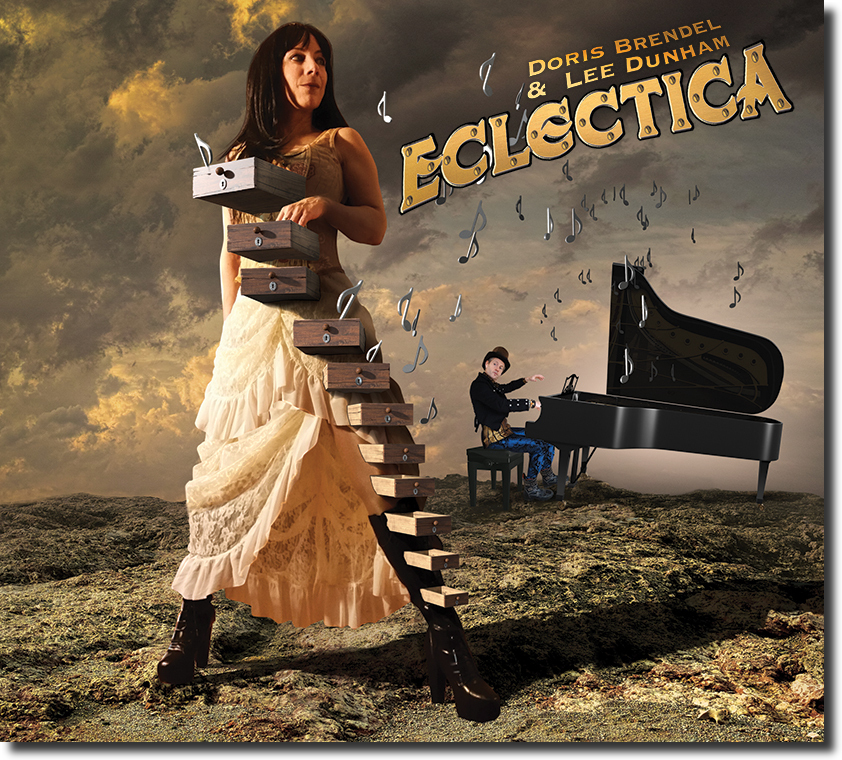 1. The One

2. Love App

3. I Rather Wear Black

4. Crying Shame

5. Retribution

6. Animal

7. Losing It

8. Death and Taxes

9. Balloon

10. One World
Click here for the CD of 'Eclectica' now!
I rather have the CD Presentation Box!
Doris Brendel is largely recognised as one of the most innovative alternative artists of the last decade encompassing alternative and progressive rock, pop, blues, celtic, singer-songwriter and world influences and appealing to the 'intelligent alternative music fan'. With her unique and distinctive husky voice she stands out in a league of her own. Along with producer Lee Dunham, Brendel creates Alternative Rock landscapes impossible to categorise. Think Janice Joplin and Skunk Ananse getting down with the Beatles, Muse and Dream Theatre.
The production on 'Eclectica' is exceptional and features an array of musicians and instruments, including a solo by Wishbone Ash's Andy Powell. The CD contains additional link tracks not available on the download version. A hand-made limited edition Presentation Box is also available.
In the words of Rock n Roll Report: "Eclectica is a truly exceptional diversity of first class, top drawer tracks which will animate your emotions while exciting your senses.". 10/10 "
So click the order button below and order your copy of 'Eclectica' and find out what the reviewers are shouting about!
ORDERS ARE AVAILABLE NOW!


CDs will be sent within 48 hours of order. Postal charges vary depending on the country ordered from.
'The songs are beautifully written with a balanced style, while the performances are inspired.' PROG MAGAZINE
'It's a celebration of life in both black-and-white and glorious technicolor.' 5/5 DMME
"..the Brendel-Dunham musical symbiosis has now been perfected and the fusion of their combined aesthetic intent has reached a new level." 10/10 METAL DISCOVERY
'This ten track album is her latest recording which in turn, confirms what an exceptional talent this girl is, and as a consequence is one of the best on the scene at the moment.' RAVENHEART MAGAZINE
''I am almost rendered speechless every time that I am privileged to hearing new work from Doris. ''I am completely besotted by this new milestone album.'' 10/10 THE ROCK AND ROLL REPORT
'' It's brilliant. One of those albums that contains track after track of quality music.'' REAL ROCK AND ROLL
''Eclectica is an accomplished album and one of the best new albums I've heard for a while.'' SOUNDWAVES REVIEW
More Reviews of Doris Brendel (Upside Down World):
'Doris Brendel has some freaking pipes! My Gawd, is she the ghost of Janis Joplin? She is awesome!' FOX FM
'Doris Brendel remains unpredictable, wilful, funny, powerful, devastating, melancholy and a hundred other things, often several of them at once. ' 'Crisply produced, beautifully performed, and unpredictable as all hell, Upside Down World is the sound of one of the UK's great undiscovered singer-songwriters following her fearless muse with a collaborator who clearly enjoys and understands her versatility.' ECHOES AND DUST
'Proud surreal stance and real-life adventures of one of the hottest duos in English Wonderland.' 'Here's a celebration of existence for everyone to join in.' 'Doris herself is a force of nature' DMME
'Brendel is a stunning singer, possessing a voice rich, powerful, gritty, full of character' SEA OF TRANQUILITY
'Brendel's female competition is very very remote with this vocal performance.' LORDS OF METAL
'The album says quality from the moment you first look at the artwork' FATEA
'This album will definitely take you on a ride' SCREEMER MAGAZINE
'…she effortlessly manages to butterfly from one genre to another' POWERPLAY MAGAZINE