Get your CD of Doris Brendel's latest album 'UPSIDE DOWN WORLD' for just £9.99
Order 'Upside Down World' now because it's like diving into an assorted box of chocolates and, in the words of a reviewer, 'The album says quality from the moment you first look at the artwork.'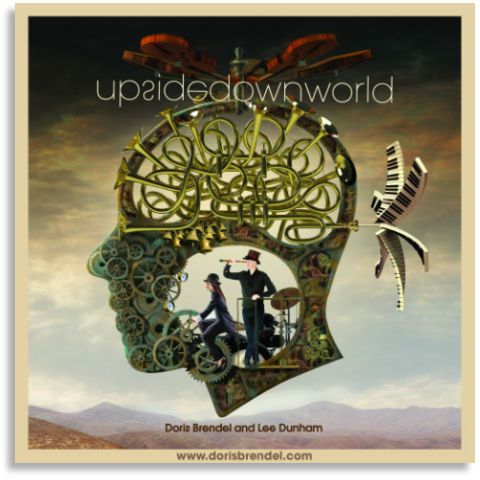 1. The Devil Closed the Door on Me

2. Adored

3. Slap Me and You Die

4. Accessorise

5. Tumbling Away

6. A Little Act of Defiance

7. Upside Down World

8. Still Running

9. Life is a Mushroom
Click here for the CD of 'Upside Down World' now!
I rather have the CD Presentation Box!
Doris Brendel is largely recognised as one of the most innovative alternative artists of the last decade encompassing alternative and progressive rock, pop, blues, celtic, singer-songwriter and world influences and appealing to the 'intelligent alternative music fan'. With her unique and distinctive husky voice she stands out in a league of her own. If you are a fan of original artists, such as Kate Bush, Bjork, Janis Joplin, Jethro Tull, Sam Brown, Marillion, Skunk Ananse and more, this is an essential artist for your collection.
The production on 'Upside Down World' is exceptional and features an array of musicians and instruments. For the first time a limited edition vinyl is available – this and the CD feature additional link tracks not available on the download version. The vinyl is worth getting for the artwork alone!
In the words of Firebrand Magazine: " If I had to sum up Upside Down World in on word I would use phenomenal. I have just placed it on top of the list for 'album of the decade'. Need I say more, Upside Down World creates a new benchmark in modern rock. 10/10 "
So click the order button below and order your copy of 'Upside Down World' and find out what the reviewers are shouting about!
THIS ALBUM IS AVAILABLE NOW!


CDs will be sent within 48 hours of order. Postal charges vary depending on the country ordered from.
More Reviews:
'Upside Down World is a modern White Album.' 'The artistic performance is breath taking and the songs are varied and great' ART ROCK
'Doris Brendel has some freaking pipes! My Gawd, is she the ghost of Janis Joplin? She is awesome!' FOX FM
'Doris Brendel remains unpredictable, wilful, funny, powerful, devastating, melancholy and a hundred other things, often several of them at once. ' 'Crisply produced, beautifully performed, and unpredictable as all hell, Upside Down World is the sound of one of the UK's great undiscovered singer-songwriters following her fearless muse with a collaborator who clearly enjoys and understands her versatility.' ECHOES AND DUST
'A Little Act of Defiance' is as good a song as has ever been written, ever.' '…and it (the album) seems to keep getting better and better with each listen ' METAL DISCOVERY
'Proud surreal stance and real-life adventures of one of the hottest duos in English Wonderland.' 'Here's a celebration of existence for everyone to join in.' 'Doris herself is a force of nature' DMME
'Brendel is a stunning singer, possessing a voice rich, powerful, gritty, full of character' SEA OF TRANQUILITY
'Brendel's female competition is very very remote with this vocal performance.' LORDS OF METAL
'The album says quality from the moment you first look at the artwork' FATEA
'This album will definitely take you on a ride' SCREEMER MAGAZINE
'…she effortlessly manages to butterfly from one genre to another' POWERPLAY MAGAZINE