Order your limited edition Presentation Box of Doris Brendel's latest album 'Mass Hysteria' for £26.99
There are only 200 of these hand-made presentation boxes – so don't delay! They sell out quickly.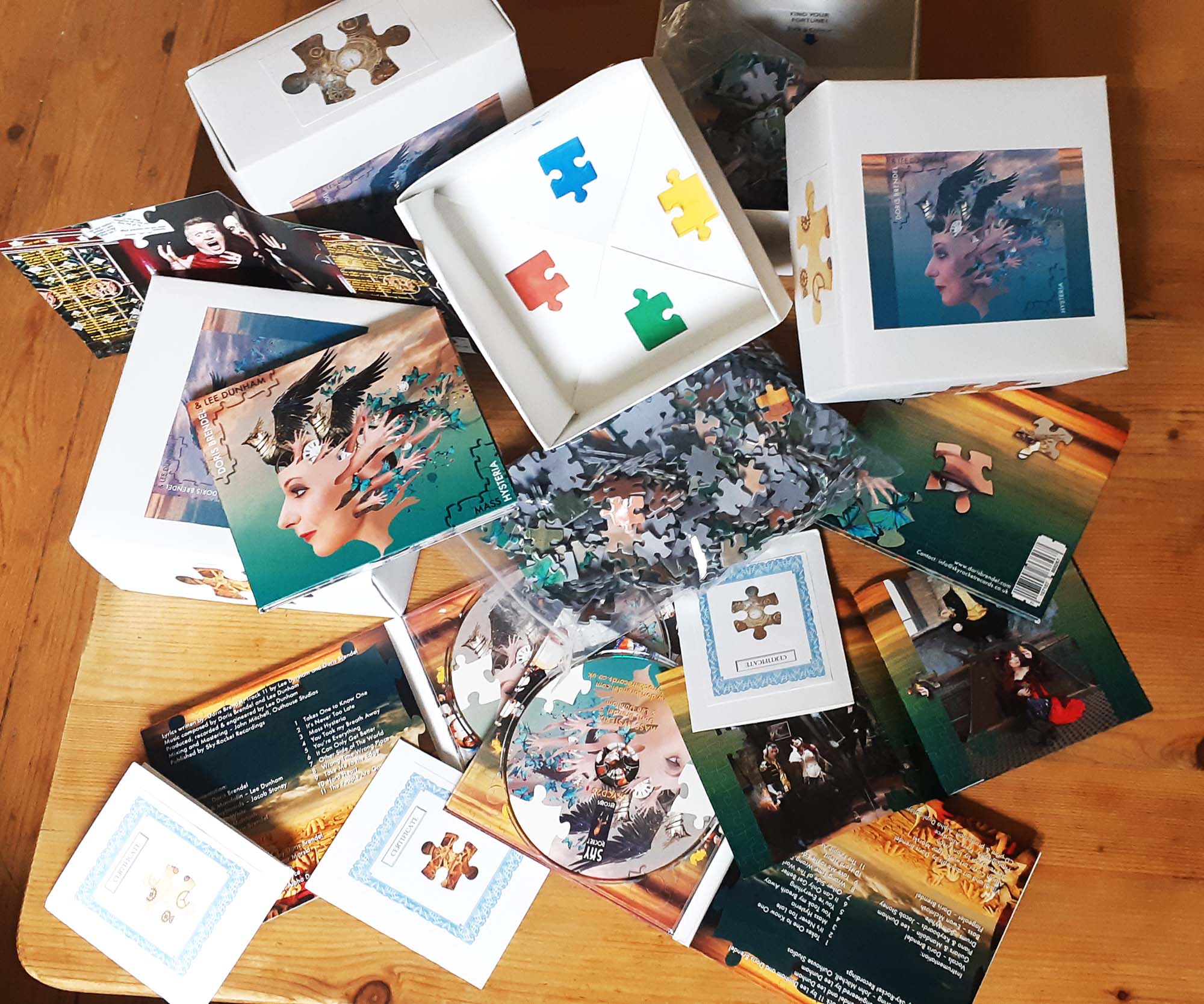 1. Takes One to Know One

2. It's Never Too Late

3. Mass Hysteria

4. You Took My Breath Away

5. You're Everything

6. It Can Only Get Better

7. Other Side of the World

8. Wrong Time Wrong Place

9. Take Me to the Edge

10. Hard Heart

11. The People Are Gonna Rise Up
Click here for the Presentation Box of 'Mass Hysteria' now!
Each origami Presentation box has been hand-crafted by Doris herself and contains 1 CD album signed by both Brendel and Dunham and one 350 piece jigsaw puzzle of the cover artwork by Igor Morski. Each box has unique features and includes a fun 'fortunes' section, as well as a numbered certificate. Certificates are numbered to reflect when orders come in! So the very first order will get the #1 box.
"Putting this thing together during a lockdown has been something of a feat!', says Doris. 'All of the factories which had quoted on the puzzles shut down, and it took some serious searching to find someone who could fulfil the order. Alas this also meant the costs went up far more than anticipated. I hope our listeners will forgive us for having to add a couple of pounds to the price..'
The production for 'Mass Hysteria' has stepped up once again, and has been mixed and mastered by John Mitchell (Lonely Robot/ It Bites). The CD contains 3 bonus tracks not available on the vinyl.
In the words of DMME: ''  Mass Hysteria…  is a major achievement''  5 STARS
So click the order button below and order your copy of 'Mass Hysteria' and find out what the reviewers are shouting about!
ALBUM AVAILABLE NOW!


Orders will be sent out within 48 working hours. Postal charges vary depending on the country ordered from.
''.. a purposeful mix of blissful melodies and formidable musicianship'' PROG MAGAZINE
''  a major achievement'' DMME
''The team of Brendel and Dunham is now fully formed'' PROG MAGAZINE
''A rich garden of beautifully engaging tracks'' ROCK RADIO UK
''a uniquely powerful sound that marks out this record as something rather exceptional'' PENNY BLACK MUSIC
'' Mass Hysteria… this majestic masterpiece..'' THE ROCK AND ROLL REPORT
'' Doris Brendel is undoubtedly one of the most important singer / songwriters in the current alt-rock scene'' ROOTSTIME
''a musical puzzle combining to create a vast soundscape'' NEWBURY WEEKLY NEWS
''..  an absolute miracle..'' POWERMETAL
'' the strength and color of the tracks are phenomenal'' ART ROCK
''mindblowing'' BCFM Rock Show
''..top quality tunes without batting an eyelid'' GLORY DAZE MUSIC
'' characterized by beautiful music in a sophisticated production'' ART ROCK
''Once again innovative, expertly produced and beautifully packaged'' ROOTSTIME
''  a journey to the hidden depths of human nature'' DMME
''  it is the presence in the song that makes me tremble'' ART ROCK