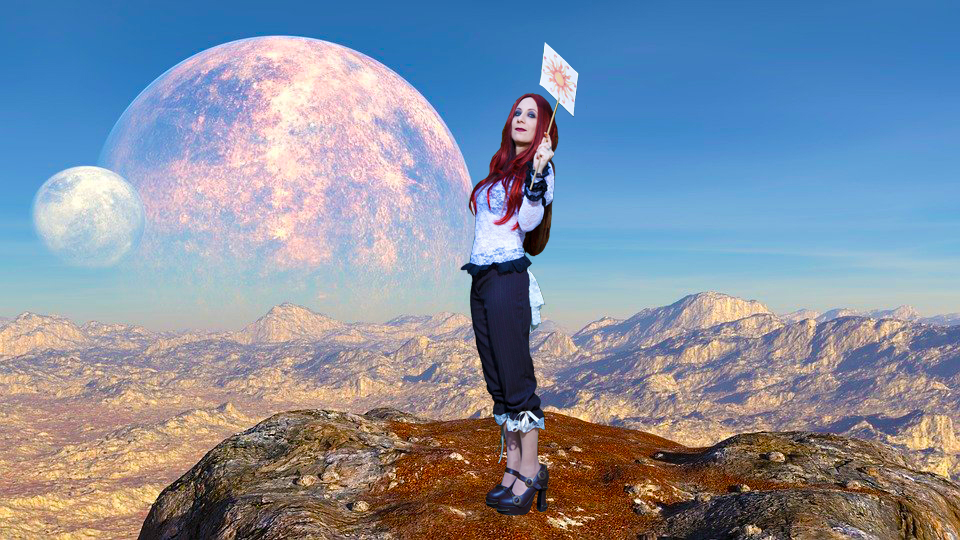 I promised myself I would write a retrospective self-penned critique of STAR BRIGHT while it's all still fresh in my mind and having just rendered the rough mix for track 10, this seems like the perfect time to do it.
Star Bright is my 4th 'acoustic' album since 2019. 'Acoustic' means mostly acoustic, but definitely stripped down and, most importantly, recorded at home and played by yours truly. Inevitably they're a bit rough around the edges. There is no autotuning or timing up like a proper producer would do. But it's a marvellous vehicle for me to purge my churning brain from a maelstrom of ideas and fancies. Lee keeps telling me I'm 'weird' when I discuss these, which works for me. Weird is way better than boring.
Blue Egg
I must confess that this album has completely taken me by surprise. It started, like the other albums, with a bunch of disconnected song ideas, 4 of which I recorded. Track 5 was 'Blue Egg' (from another planet) which I wrote and recorded in January. The inspiration came from the book 'the Employees' by Danish writer Olga Ravn, in which the workers on a spaceship bring aboard various strange objects from another planet, and these in turn change their thought processes. I loved the idea of a big blue alien egg giving off some pheromones that make you want to stroke, caress and take care of it, regardless of what eventually hatches, even if it eats your face off.
Next in line was 'Maybe I'm an Alien' where the subject is someone who finds it hard to communicate, perhaps autistic, and who finds comfort in the idea that they were dropped off on Earth as some sort of experiment. This was followed by 'Star Bright', a play on the nursery rhyme. This song is about a wish and a chain reaction of events. The wish itself is utterly banal, but as the song unfolds it reveals the chain of events which leads to tragedy.
Heading to Space
At this point I realised that, quite unwittingly, the last 3 songs recorded all had 'space' theme and I excitedly rang my artist Ian Foxon to suggest a 'Spacey' theme for the album cover. Of course it didn't end there. Once my brain latched onto the topic it refused to let go. Ideas kept popping into my head on my daily walks or, annoyingly, at 5am, forcing me to grumpily get out of bed to write down lyrics.
'Space Party' was the idea of a 'dweeb' who lives in a small flat with loud neighbours, deciding to throw a party. As he has no friends he invites aliens by dispatching invitations tied to helium balloons (8 til late). ''I'm bubbling with anticipation/ while everyone's fashionably late/ I sit in my flat in my paper hat/ And I know it's going to be great'' Of course the aliens don't show, but Colin (yes let's call him Colin) has had the most thrilling night for many years. Musically it's very odd. There's something very pompous about it, but it has a 70s chorus with clashing harmonies.
Next came 'Pod'. It just popped into my head with a capella harmonies like the Andrews Sisters blasting off in a space pod. ''Hey baby won't you check my ride/ It can hover and it can glide''. It's the equivalent of a babe magnet car with a guy trying to pick up chicks by bouncing on the suspension. Except this 'car' is nifty at zipping around the milky way. It takes up 20 tracks of vocals and even includes some 'Oh My!'s for good measure.
Aim for the stars
The next track 'Foreign Exchange Trip' was already bubbling away. Here the idea is that the exchange is not with another country but with another planet. The 'tourist' has had an online romance with someone from the impending destination and is feeling optimistic that he's going to be the one! Of course it's risky business. With any luck he will look a bit like his online photo – or at least be humanoid and not something with tentacles. Or worse she might discover that human is considered a rare delicacy on Planet Og. I'm sure it'll be fine….
At this point I had the required 10 tracks for the album. Six of them were space related and four weren't. Hmm. This prompted some discussions with producer Jordan Brown. Should I shift the first 4 songs to another album and go full Concept album? I already had another idea at this point, so we decided to aim for the stars!
Amazingly I wrote and recorded the remaining four tracks in 8 days. Boom. Number 7 is called 'Lucky Charm'. ''A meteor came down to Earth, it flew like a rocket/ I searched the site and found a piece to place into my pocket/ And ever since my luck has held, I cannot come to harm/ While I have my chunk of meteorite as my lucky charm'' It's a story of luck found and lost.
Refugees from Mars
Next came 'Refugees', a super dark and menacing Gothic track. 'Refugees from Mars are here/ There's a war on their planet and they're running in fear/ So many lost in space, it's a tragedy we hear/ But still we don't want their sort over here.'' It highlights familiar right wing tropes and humanity's fear of anything that is different, which can only be overcome by logic and compassion. I can imagine a German Industrial band covering this one…
'Twenty Years' is a dirty blues track about a man who has been wrongly accused of a crime and has been sent to the Space Mines to work off his sentence. My guitar playing is typically scrappy, but I've managed a killer vocal on this one (if I say so myself). A reminder that my voice is well suited to these kind of tracks. Possibly my favourite at this point.
And finally 'Satellites' is like a stripped down Piano House track (yes you read that right – ACIIID). It's back to the 90s and this is a serious bit of pop. The subject matter ''Satellites are watching you'' is rather anachronistic for a dance track, but hey – I live to mix it up.
And there we have it. A concept album about Space which happened by accident. The stories however are all too human. I enjoyed writing this one immensely and feel rather sad it's come to an end. Now I eagerly await Jordan's mixes and Ian's artwork – so a little patience is still required. Meanwhile I've had an idea of where I should go next. But sssshhhh. It's a secret.
4 Comments
Trackbacks and Pingbacks
Trackback URL for this post:
https://www.dorisbrendelmusic.com/star-bright/trackback/