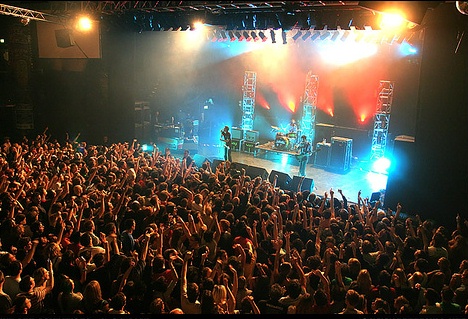 I'm guessing you're no youngster. No offense meant. Neither am I. I'm making the assumption on the fact you are reading this, and most rock and prog fans are of a certain vintage. Welcome to the club.
We are a gently maturing breed with some awesome memories. The youngsters can barely imagine whilst glued to their phones, what music and gigs meant to our younger selves. And I doubt you feel any older, not where it counts. Yes, a little wiser, a little less likely to anger, and certainly a great deal creakier. But our hearts are still there.
The Internet changed everything
We come from an era before the internet changed…. well everything! Don't get me wrong. I love my phone and my computer. I love apps and Google and Netflix. But I also love the memories and the excitement of the days before.
How hard we used to have to work to research things! I remember my band at the time, the Violet Hour, in 1989, sitting in the library for 2 days, trying to find a suitable band manager. We were scouring the Music Industry handbook, a huge tome of contact information, pen and paper in hand, writing down phone numbers of suitable candidates. This was followed by packing demos, photos and letters to each one and sending them off in the post. Over the next few weeks we received a lot of rejection letters, but 3 people responded for meetings.
Sleeping in the car
I was at Uni in Leeds at the time, which is where the band was based, and the keyboard player was the only one with a car. The 5 of us travelled to London for meetings with record labels over 2 days and had to sleep in the car as we had no money.
It took several more trips like this before landing first a manager, and then a deal with Sony. I was no stranger to playing live shows as I started out with an acoustic guitar and supported Steve Marriott and the Wedding Present amongst others. I especially remember Steve Marriott, who was brilliant, but being rather shocked at his repartee with the crowd as he ripped the shit out of everyone including a collection of wheel-chair users at the front (dance you wa****s) which was funny and wrong in equal measure.
But the Sony deal kick-started some serious touring. In 1990 we were dispatched for several months with Marillion. Sadly I was too young to truly appreciate the gift we had been given.
Living in the moment
In those days no-one even had mobile phones! No selfies. No sneaky band videos or social media. We had a mailing list. By mail. And audiences were truly in the moment. Truly invested in the show and in the music. I think you know what I'm talking about.
3 record deals and countless albums later, several tours, most notably with the great Marillion, Fish and Wishbone Ash; thousands of beer soaked, mildew smelling dressing rooms, an incalculable number of miles in cars, vans and tour buses; musicians – some life long friends and others best forgotten; a large number of sound engineers (all called Simon because I can never remember names – every now and again it's right); perfect performances and bum notes; getting home at 3am and being too tired to sleep and catching the sunrise; nerves fought through and nerves conquered; despondent audiences and rapturous applause; good reviews, bad reviews; the occasional argument and so much laughter…And throughout the world has slowly changed.
Holding a piece of history
But we still remember. We remember the passion of music. The magic of being in the moment. We still value the feel of that album in our hands. The artwork. Not a piece of code, easily discarded, but a slice of history and emotion.
And this is why you matter so much. Like you, I value the art and effort behind every record. And without so many of you still wanting this, I wouldn't be where I am. So thank you. Thank you for your support. Your passion. And for being you.
https://www.dorisbrendelmusic.com/eclectica-cd/
49 Comments
Trackbacks and Pingbacks
Trackback URL for this post:
https://www.dorisbrendelmusic.com/why-you-really-matter/trackback/