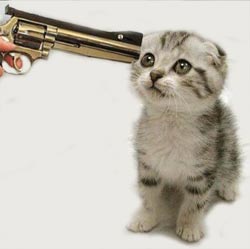 A good friend of mine suggested that I would get even more people downloading my tracks if the headline was changed to 'Download now or the kitten gets it'.
In truth I thought this was pretty funny, but decided against it. One because I thought too many people may be offended, and secondly because it should ultimately say something about the music. But it did get me thinking about the whole aspect of kitties, puppies and peoples' obsession with cute things.
Pictures of kittens are supposedly amongst the most downloaded and shared images on the web, and there is no doubt of the nauseating gooiness they illicit especially amongst Brits. Now don't get me wrong, and it shames me to admit this, but I'm not completely impervious to the attraction. Though I'm totally unmoved by pictures of babies, some baby animal images do make me go 'aaah' and are a joy to behold.
My train of thought then moved to O2's 'be more dog' campaign, which has completely baffled me from the outset. Apparently people are either 'dog people' or 'cat people'. Two opposing and disparate tribes. Me – I like both, and have proudly had companions of both types. My black & white cat Boo had to be rehoused many years ago due to a boyfriend with severe allergies (in hindsight I should have kept the cat), and I have since enjoyed the companionship of 2 Alsatians who brought much joy and exercise into my life.
But why would anyone want to be a dog over a cat?! Let's face it; cats are independent, fierce and like an occasional shoulder rub. Perrrfect. If they're not happy they move on to pastures greener and are smart enough to fend for themselves in lean times. Dogs, on the other hand, are overexcitable pack animals, who are loyal to the point of self-destruction. As a pet, wonderful. To be one – not so much. A whole (and seemingly successful) advertising campaign built on the premise that most people would rather follow the herd and not think for themselves. Crazy. Is it the cuteness of the animals that has blinded everyone to the message?
Well I would like to reiterate, in no uncertain terms, that not cats, kittens or otherwise will be harmed whether or not you decide to download my tracks. I just hope you enjoy them if you do.
You can also listen first if you prefer: https://www.dorisbrendelmusic.com/not-utopia-cd/
Miaow.
There are no comments yet, add one below.