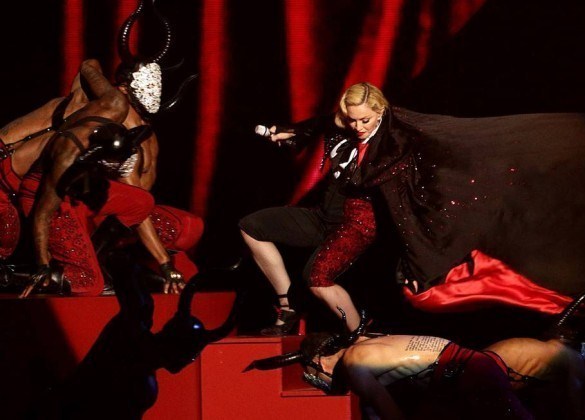 Madonna's spectacular fall at the BRITs, made me think about all things publicity. Though I very much doubt that this was a stunt, after all she could have seriously hurt herself, it certainly had the desired effect, and she hijacked all of the attention from the event.
There is of course a long list of publicity stunts over the years. Some bizarre, like John & Yoko inviting the press to interview them in bed. Or Prince changing his name to….. er…. something. Super Furry Animals souped up a tank with speakers and drove it around town.
Masters of PR Kiss (love them or loathe them) appeared as Marvel super heroes in a series of comics. They even launched the venture by publicly drawing blood to mix with the ink. (Make sure you wear gloves when handling those pages.)
Then there are the 'we need to do something to make us more interesting' stunts. Like the Beatles and U2 playing on a rooftop, and Fallout Boy playing in Antarctica. Lee & I had a discussion along these lines a couple of years ago:- 'Maybe we can be the first band in space!' Alas, that spot has already been reserved. Back to the drawing board…
Next we have the 'outrage' stunts. They're easy. Just call Jesus a paedophile in your lyrics or put a picture of Mohammed on your album and watch the sparks fly. Band Pussy Riot staged an outrageous protest in front of Moscow's Cathedral of Christ the Savior, which ended up with 2 of them being arrested and sentenced for 2 years. Personally, I don't much fancy the hate mail and threats, let alone a stretch inside.
The classic publicity route is of course drugs and drunkenness. Just behave badly enough in public; perhaps punch someone along the way; a bit of rehab; throw in an eating disorder for good measure. Then add a few failed relationships, preferably with celebs, and that'll keep you going for years. It certainly didn't do Amy Winehouse any harm – well not for publicity anyway – and Katie Price has made a career of it. No good for me alas. I hardly ever drink, don't take drugs, no eating disorders or interesting phobias, and I have a nice boyfriend. So dull.
One thing about all of these stunts is that you have to be reasonably famous BEFORE any of these things become interesting. There are millions of people who have falls, marital problems, eating disorders, drug addictions. Some have even been to Antarctica. Interested? Nope. Me neither. So to engineer a stunt that would propel someone from complete unknown, other than sleeping with a celebrity, would take something earthshattering. By rights, my episode of falling out of the window in Lee's studio would have at least earned a byline if I was well-known (see https://www.dorisbrendelmusic.com/near-death-by-album/ if you missed that story).
Actually, my favourite publicity stunt over the last few years has nothing to do with music. It was when Adam Pacitti, a media production graduate, decided to invest in the following billboard: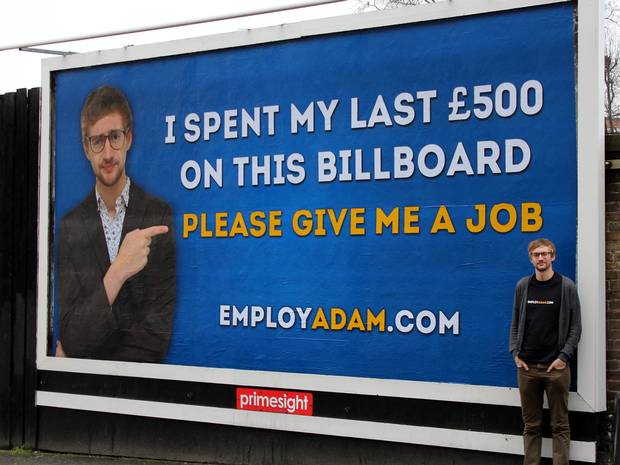 Utterly inspired! He was inundated with offers.
Perhaps I should invest in a billboard too:
'I SPENT MY LAST £500 ON THIS BILLBOARD
Please listen to my music! It's better than a lot of the s*** out there.'
Add a picture of me looking very forlorn…
As ever I would love to hear your ideas and comments on this topic!
For now, my music will have to do talking.
https://www.dorisbrendelmusic.com/not-utopia-cd-offer/
There are no comments yet, add one below.