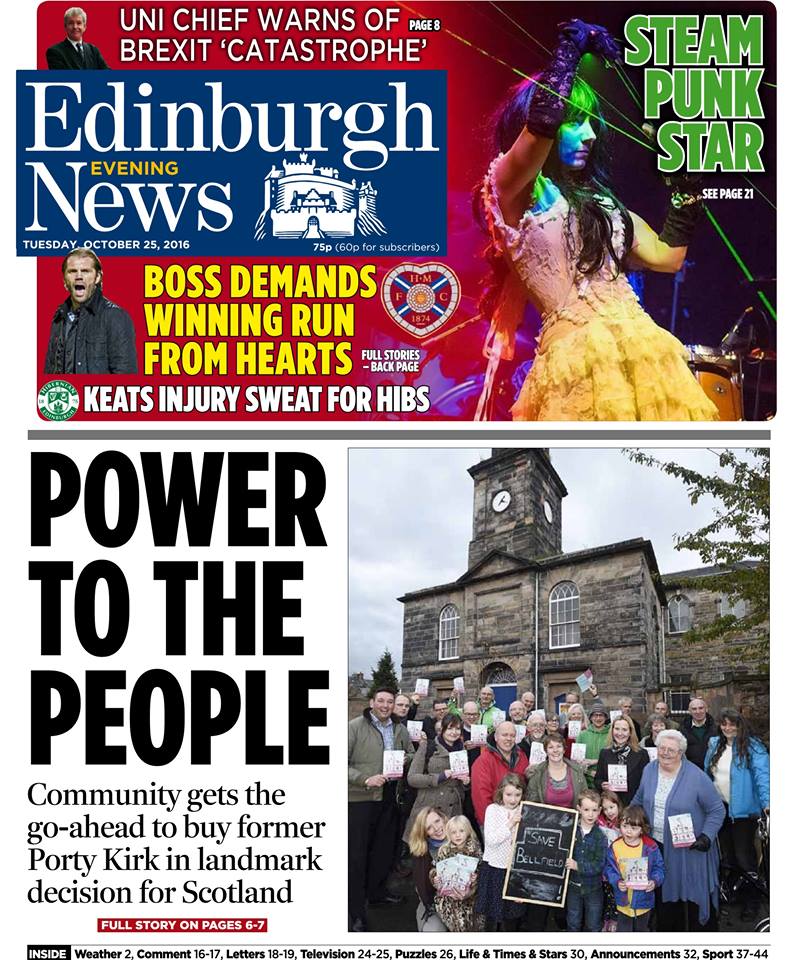 It's true. I've been propelled to super stardom. Front page news. Just like that. I can now say 'as seen on the FRONT page of the papers'. Yeeah. Beat that.
Furthermore, my picture isn't accompanied by a by-line which includes the words 'shocking', 'revelation' or 'how I lost 3 stone in a week'. No – it includes the word 'Star'!
So – ok. It doesn't actually have my name on the front page. Just my picture. Wearing a wig, funky clothes and some extra special colour filters by photographer Reg Richardson, who has to take some credit for taking such a fabulous picture in the first place. Well a lot of credit actually. No-one is likely to recognise me in Asda's based on my front page debut.
And yes – it's not the Nationals. Just regional press. About 300 miles away from where I live. So I would have to loiter wearing that dress in the doorway of Edinburgh Lidl for several hours to perhaps, just perhaps, receive an autograph request. And I better do it soon! Because I have already been replaced by several other images in the following editions, and the brain can only remember so much.
Though this is just a localised 15 minutes of fame, I shall bask in it for at least 48 hours, enjoying the warm glow that by a quirk of fate, right time, right place, right image, I've made the grade.
Luckily, I do not bask alone, but can extend this temporary sense of well-being to my fellow band members. As Lincoln, my bass player, pointed out: 'We've made it to the front page! Well my singer has anyway…'. But – being a tight-knit group, and lacking a unifying band name, we are now collectively 'Doris Brendel'. It's crept into the vocabulary of late. Lee now says 'we are Doris Brendel' on stage. I am no longer a person but a collective. Awesome. I now have 5 heads, a great sense of humour and a hell of a lot of musical skills. And collectively we've made the front page, even if a few heads are missing.
And the joy of this achievement reverberates even further. One of my close friends called me to say she'd had a rotten day, but was really cheered up by the article. So thank you Edinburgh Evening News, for cheering up my friends too. But as I said to her, stardom today, chip paper tomorrow.
Very much looking forward to the show. Even if I'm covered in salt & vinegar…
https://www.dorisbrendelmusic.com/upside-down-world-vinyl
There are no comments yet, add one below.